e-Services
Deposit Checks on the Go
Securely deposit checks 24/7 using your smart phone's camera
Important - Remember to endorse your check & write "Abri Mobile Deposit Only"
Deposit checks with Mobile Deposit
If you have Abri's Online Banking and a web-enabled iPhone® or Android Smart Phone™ with a camera, simply download the Abri Mobile Banking Application. Within one business day, the Deposit Tab should display*. Once the deposit tab is displayed, follow the simple steps below to make your check deposits.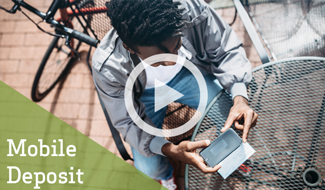 Here's how it works:
Endorse your check & write "Abri Mobile Deposit Only"
Access the Abri Mobile Banking Mobile App on your smartphone
Choose the Deposit tab*
Select Make a New Deposit
Select the Deposit Account & Enter Deposit Amount
Take a picture of the check (Front & Back)
Confirm Deposit
Keep check for 30 days before shredding
*Deposit tab at top for Android & at bottom for iPhone
Deposit Availability
Most deposits successfully submitted by 1 p.m. CST, Monday - Friday, will be available on the next business day. See our
Mobile Deposit User Agreement
for complete details. Most members can deposit up to $2,000 per day. Larger deposit amounts may be available upon request.
Deposit all US personal & business checks to your checking, savings or money market account. Some types of checks may not be eligible for mobile deposit. A list of these items is in the
Mobile Deposit User Agreement
.
Use Mobile Deposit to deposit checks your kids receive! Just be sure you have access to their account online through Mobile Banking.
Make a deposit using the camera in your mobile phone anytime you want 24/7!