e-Services
Turn paper bills into electronic contacts
Pay bills with Bill Capture
If you have Abri's Online Banking and a web-enabled iPhone® or Android Smart Phone™ with a camera, simply download the Abri Mobile Banking application. Follow the simple steps below to turn paper bills into electronic contacts you can pay right from your phone.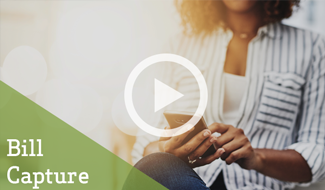 Here's how it works:
Access the Abri Mobile Banking Mobile App on your smartphone
Tap Bill Capture
Click Take a Picture
Position your phone so your entire invoice is in the window. The software will locate your bill and ask you to hold still while it takes a picture of it. The software will attempt to pull the billers name, amount due and due date from the bill automatically. If necessary, fill in any missing information.
Simply add another image, select "Finish" to add this bill to your to do list or select "Pay" to select a delivery date and amount to schedule a payment.
Turn your bills into electronic contacts using the camera in your mobile phone anytime you want 24/7!